Shrimp Scampi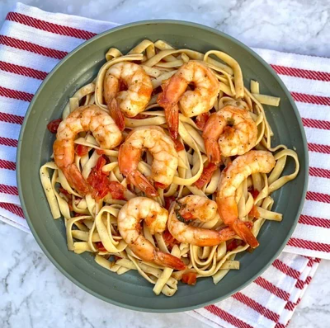 516.34 cal
For meals like this and more
If you're a seafood fanatic then we have a protein-packed meal for you! Our Shrimp Scampi comes covered in buttery garlic sauce on top of angel hair pasta with fresh tomatoes, basil, and spice.
This meal is high in protein, omega-3 fatty acids, and premium carbohydrates that will keep you satisfied with a smile on your face.
You'll find the decadent creamy texture of the shrimp to be nothing but heaven while giving you a boost of protein needed to lean up!
Benefits:
Great source of protein and omega-3 fatty acids
Angel hair pasta is a quality carbohydrate source that keeps you full longer
Basil is high in Vitamin K, Manganese, and Iron
Feed your body our Shrimp Scampi for a protein-packed meal you'll love and order yours today!
Ingredients In This Meal
Basil
Garlic
Pasta
Seasoning
Shrimp
Tomato
Nutrition Per Serving
Per serving

Nutritional info may vary slightly by time of delivery.
View full details